Roland System 100m – rare, 5 oscillator set
Roland's tiny and powerful modular synthesizer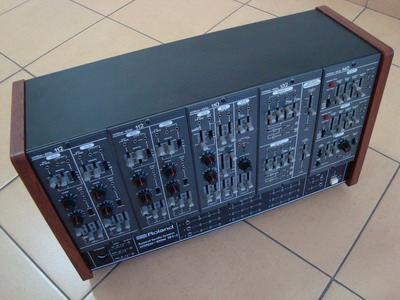 System 100m rack in wonderful condition with 5 VCOs and rare and extremely useful 132 audio/CV mixer and fixed voltage source. We have just performed calibration as per service manual (always a time consuming task with early Rolands) and fitted a bran new 230V PSU.
PRICE:
4428 EUR (3600 EUR plus 23% VAT).
Please click on the "Contact" tab in the top right corner of the page if you are not sure whether VAT applies to you.
WE CURRENTLY HAVE TWO RACKS AVAILABLE (SEE OTHER ITEM FOR DETAIL) AND THEY ARE OFFERED BOTH AT 6900 EUR (plus VAT, if applicable).
---