LinnDrum LM2 and TR-909
Three classics available from our UK partner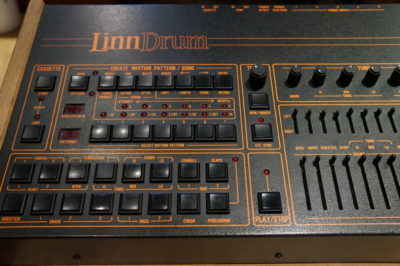 The instruments below are available from our close UK partner. Please email for details.
Roland TR909 – 2250 GBP
A fantastic condition example, complete with two Roland memory cards (one unused and in the original box). This one's currently set up for 115V but I'm happy to include a step-up transformer for buyers preferring 240V. I've resisted selling this TR909 for many years now but need to raise funds for another project. A superb machine that I'll be sad to lose, and a sound investment for the eventual buyer.
Linn LM2 – 2000 GBP
Hopefully the photographs of this LM2 do it justice. I honestly struggled to find one blemish on it. When I bought it originally it had sat in a flight case unused for quite some time, and looks as if it's been preserved in a time-capsule. Importantly it has been thoroughly serviced and checked and is 100% operational, everything working as if it had just come out of the factory.
Whilst the rest of the gear I'm selling is in extremely good condition this is the only item that I could literally say is 'Museum quality'. A fantastic investment for somebody as I doubt it would be possible to find a better example. I always found a place for the LM2 in addition to the LM1, different beasts in many respects. The list of incredible recordings that feature the LM2 is too numerous to include (just search online) it helped define a lot of 1980's music and sounds equally at home in 2017 productions.