Roland SH-2 w/ oscillator sync and MIDI
An extremely powerful, early monosynth from Roland.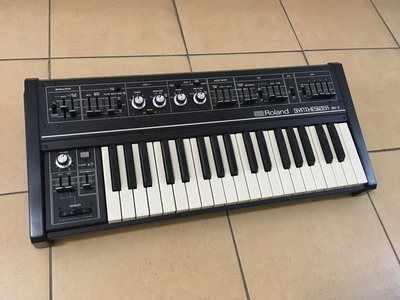 Roland SH-2 is a synthesizer that should have been far more appreciated than it was. Luckily, our 2s are bound to be a success because they have the bost of both worlds – on one hand, we install MIDI, on the other, we elegantly mod them with oscillator sync that was the greatest omission in this powerful, little machine. We have decided not to drill unnecessary holes in the instrument and the BENDER switch in the VCO 1 section now serves a new purpose. In the ON position, the bender works normally, bending both oscillators by the amount set in the pitchbender section. Position OFF however puts the machine in 'sync' mode and lat's the user to bend the VCO 2 (slave) only for the screaming sync effects. Results are spectacular.
Our SH-2s are equipped with advanced MIDI kit from CHD company that offers a lot more than mere note on/off messages and helps the musician to bring out the best in this little beast:
http://www.chd-el.cz/index.php?id=481&lngid=en
PRICE:
1537 EUR including 23% VAT (=1250 EUR at 0% VAT).
Please click on the "Contact" tab in the top right corner of the page if you are not sure whether VAT applies to you.
---
FREQUENTLY ASKED QUESTIONS

Q: SH-2 or SH-101? Which one would you choose?
A: It's a very, very hard question and partially depends on how much your setup relies on DAW. SH-101 with Tubbutec upgrade really takes the machine to the new standards and allows for some advanced manipulation over MIDI. On the other hand, with the advanced CHD MIDI you can also do a lot with the SH-2 over MIDI plus it has the advantage of a second oscillator, so it's capable of making sound the 101 will never deliver, especially with oscillator sync. The overall difference in sound between those two machines is also very significant. Please give the case a lot of thought before making a decision.
---
AUDIO SAMPLES