Roland Jupiter 8 with Kenton MIDI
Roland's flagship and most wanted polysynth of all times.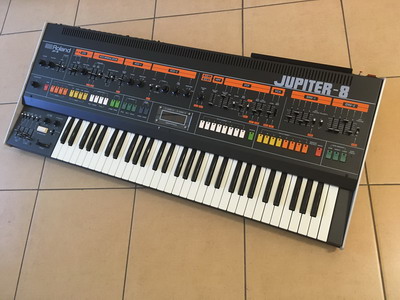 The Jupiter 8's restoration is now complete. Apart from a very thorough and costly service, we have also installed Kenton MIDI kit, refinished front panel, bender panel, front rail and block and fitted brand new, brushed aluminium sides.
This beauty is now ready to go.
It was subjected to an in depth overhaul and calibration and is an absolutely beautiful example. 230V version, of course.
WE WILL CONSIDER A 1:1 EXCHANGE FOR AN EMS SYNTHI AKS (VERY GOOD CONDITION ONLY)
PRICE:
Price 13'500 EUR (at 0% VAT, VAT may apply – 16'600 EUR with VAT).