Roland Juno-106 with new panel
This instrument looks like it just left factory!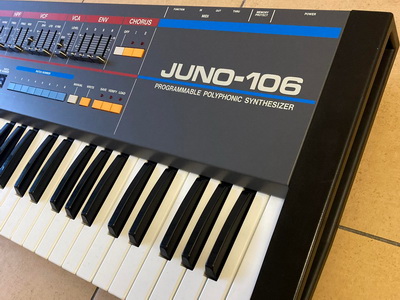 THIS SUPER BEAUTIFUL 106 HAS BEEN FITTED WITH BRAND NEW PANEL, JUST REFINISHED BY AUDIO CUSTOM.
You might have heard terryfing stories about how unreliable or susceptible to malfunctions Juno-106 are. This is not true. Or at least mostly not true. What you could have heard is that Juno-106 have 'problems with voices'. That is correct. We will not get technical here as it's actually VCF/VCA integrated circuits that fail due to the fact that they have been coated with material that degenerates with age but you can rest assured that the 106 you are about to enjoy has this problem solved.
And for that very same reason, buying an unserviced Juno-106, however beautiful or even right out of the box, does not make sense. It's like with 50 years old tyres in a car that look new – deteriorated rubber is deteriorated rubber, no magic spell or someone's promise will change that.
To prepare a 106 that will last for years is a job that requires quite some labour and here at analogia.pl includes:
– general cleaning of outside and inside of the Juno
– replacement of all of the tactile switches on the panel
– fitting new sliders on the main panel (16 pcs), bender panel (3 psc) and new volume pot
– replacement of Roland two prong power socket with regular IEC (aka 'computer' or 'kettle') socket
– replacement of battery
– regeneration of keyboard
– replacement of all 6 filter ICs with brand new clones
– final calibration and installation of factory patches
– installation of external input to chorus – you will now be able to process your sounds through the wonderful and rich Roland chorus
PRICE:
2850 EUR (excl. VAT, VAT may be applicable according to you location – check "contact" tab for details).