Roland Jupiter 8
Most likely the best JP8 available anywhere.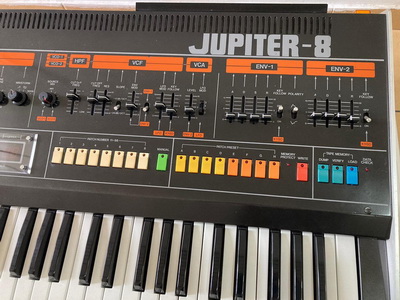 Why most likely the best JP8 offered anywhere? Mainly because we rebuilt it, not just serviced. New PSU from Andrej at Synthronics was installed (so the synth can work on all voltages worldwide, from 100V to 240V), it was fitted with two, brand new main boards (CPU and upgrade to 14 bit), it got the essential Encore MIDI kit, received brand new set of sliders and dust covers and, last but not least, it has been meticulously recapped. So I honestly could not say what elese could be done to upgrade or rather "future prooof" the 8, especially when it has the best possible, brand new PSU, so no more overheating and hum. What also makes it a one of a kind offer is that it's a very early Jupiter 8, so tiny instabilities (not to be confused with the synth not being stable as it will end up being a 14 bit Jupiter) will add to overall richness of sound (think early Minimoogs, in terms of power of sound). The panel has some minor blemishes but it's surprisingly fresh and shiny. Having seen over a dozen 8s, I was really in awe of it's condition. So no, that's not the any other Jupiter 8 offered anywhere. There are many for sale, very few (if any) are like ours.
We ship worldwide. The 8 comes with brand new, heavy duty flightcase.
PRICE:
26'000 EUR (at 0% VAT)
Please click on the "Contact" tab in the top right corner of the page if you are not sure whether VAT applies to you.