Roland MKS-7
The true "Super Quartet" indeed.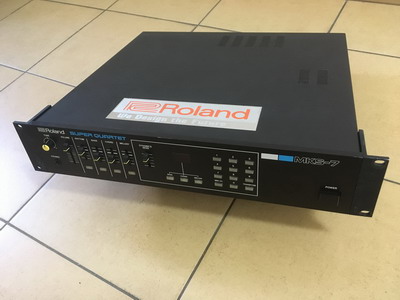 This is one of the most underrated synths we know of. What sits inside of this very inconspicuous box is: a four voice Juno-106 (aka chord section) with a separate audio output, a two voice Juno-106 (aka lead section) with a separate audio output a monophonic bass Juno-106 voice with a separate audio output and full set of TR-707 voices with a separate audio out. Yes, a four-part multitimbral, powerful composition tool, especially for people with limited studio space.
Here comes another wonderful function that puts the regular 106 to shame: velocity. When using an external, velocity sensitive keyboard you will be amazed to hear how much extra life it brings to an already great sounding synthesizer.
There is only one small downside that can be easily dealt with. Since the MKS7 only has presets and no memories, each of the sounds has to be edited by means of an external hardware MIDI control surface or software.
REGULAR PRICE:
923 EUR (750 EUR plus 23% VAT).
Please click on the "Contact" tab in the top right corner of the page if you are not sure whether VAT applies to you.
---
FREQUENTLY ASKED QUESTIONS

Q: What? A velocity sensitive 106 plus the 707 and a mono bass synth, all at a fraction of a price? How come?
A: We honestly don't know. It may be another Jupiter 4 – people were laughing at it for decades and now it can be even more expensive than the Jupiter 8.
Q: I do not quite understand. If it has only presets, how do I store patches?
A:You can't store patches inside the unit. To save them, you will need a control surface (a MIDI knob / slider box) that has Juno-106 presets and that can store patches inside it or use a software editor / librarian, a dedicated Juno-106 programmer that can store patches inside the program.
Q: I have noticed that it comes in white (ivory) version and black version. Is there any difference, especially in sound?
A:We have been told by a reliable source (i.e. an ex Roland employee) that the ivory version (that comes without rack ears) has been designed to match the colour of home computers. And that's it. There are no changes in anything other than the colour.
Q: If there is a 106 inside, won't it have the typical Juno-106 'voice problem'?
A:It would if we did not fix it! Rest assured that all of the Juno-106 parts (with 80017A filter ICs to name the main culprit) have been serviced, tested and are now guaranteed.