Maxon Fire Blade Effector Board
Very rare (and inspiring) effects board.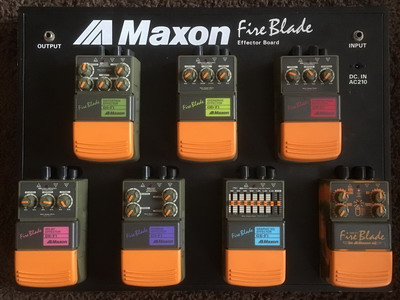 A neat, useful and inspiring selection of Maxon (Ibanez) pedals. As pictures show, what's great about them is that they can be rearranged to the owner's liking. Signal flow is in left direction – top right pedal (compressor) first, then from bottom right (Fire Blade) to bottom left (analogue delay), the last effect before output. They are powered from one PSU, 12V, tip positive (in other words, not Boss-type that is tip negative).
PRICE:
492 EUR (400 EUR plus 23% VAT).
Please click on the "Contact" tab in the top right corner of the page if you are not sure whether VAT applies to you.