Korg MS-50 new in box
Most sought after member of Korg MS family.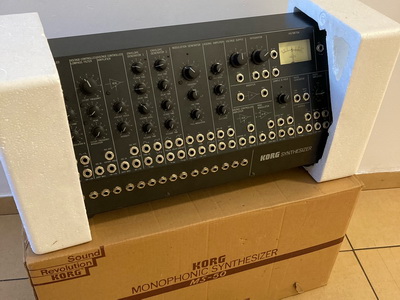 Korg MS-50 with original box. It was fully refurbished, including full recap. It simply could not get any better. Condition is excellent and it has just been calibrated and is ready to go.
Actually, this MS-50 has long been resreved and was prepared for a client of us in Canada who had to cancel at a very last minute due to health issues. It's currently set for 120V so it's North America ready (and other countries with 120V power). We can of course rewire back for European 230V.
PRICE:
3000 EUR at 0% VAT (3690 EUR including 23% VAT)
Please click on the "Contact" tab in the top right corner of the page if you are not sure whether VAT applies to you.